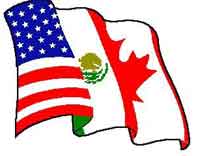 Benefits of NAFTA
NAFTA, The North American Free Trade Agreement, came into force on 1st Jan, 1994, between the United States, Mexico, and Canada. This agreement created the largest free trade area which is believed to have linked over 444 million people, who are producing over $17 trillion worth of goods and services. Studies have shown that the NAFTA has resulted in the increase of US GDP by over .5% per annum. This is possible due to the elimination of taxes and the creation of international rights for investors. It has also resulted in lesser business costs and encouragement of investment and growth of small enterprises. This in turn has reduced inflation by reducing import costs. Now, let's take a look at the other major benefits of this agreement.
1.Improved agricultural trade:
The two-way agricultural trade between the United States and Mexico increased 10.9% from 2003 to 2004. Similarly the agricultural trade agreement between the United States and Canada increased 8% from 2003 to 2004. In 2004, the export of various vital commodities from US to both the countries set records.
2.Encourages trade and development:
NAFTA has resulted in soaring trade partnerships between United States and its partners. In fact, as of 2007, the goods and services trade with NAFTA was approximately $1.0 trillion, exports were $452 billion, and imports were $568 billion. In 2008, the NAFTA partners were the top two importers of US products. US goods exports to NAFTA increased by 7.2% in 2008 as compared to 2007. The top categories of exports included machinery, vehicle parts, electrical machinery, mineral fuel and oil, and plastics. Commercial private services also showed an increase of 13.2% in 2007 as compared to 2006.
3.Encourages specialization:
This agreement allows each of the NAFTA partner countries to concentrate and specialize in their own products and thereby become more efficient. For instance, in 2008, the NAFTA partner countries were the third largest suppliers of goods to the US. NAFTA accounted for 26.4% of overall US imports and included products such as mineral fuel and oil, vehicles, electrical machinery, machinery, and other special returns. Agricultural products included fresh vegetables, snacks, live stock, processed fruit and vegetables, wine and beer.
4.Prosperous and stable neighborhood:
US foreign direct investment in NAFTA countries was $348.7 billion in 2007, which was 11.3% more as compared to 2006. US direct investment was in the fields of manufacturing, finance, non-bank holding companies, and mining sectors. NAFTA partner countries direct investment in the US was in the field of finance, manufacturing, and banking.
5.Broader array of competitively priced goods:
For some commodities, competition of imported products has increased. This is because of open marketing and bringing down of trade barriers. Further, being one of the strongest and largest economies of the NAFTA countries, US imports of Canadian products have increased considerably allowing US consumers a wide choice of products at competitive rates. Also, with NAFTA Mexico's tariffs have reduced to about 2%, making more than two-thirds of US exports to Mexico duty-free.
6.Enhanced job market:
The trade development due to the creation of NAFTA has also resulted in a generation and growth of the job market. While on the one hand Mexico can make use of advanced technology to boost its industrial and economic development, US can avail of comparatively cheaper labor. Mexico's modernization would require the purchase of US components and technology, which in turn will encourage better economic integration. Also NAFTA has resulted in opening up the Mexican market by encouraging zero tariffs in both directions.
Thus, NAFTA created the world's biggest free trade area and has led to the economic growth of all the partner countries by boosting their trade, agriculture, and employment opportunities. This not only ensures a richer and more stable economy for each partner country but also a more economically stable neighbor for these countries.