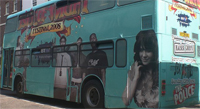 Benefits of Marketing
Billboards, newspaper ads, television jingles, web promos, promo sms's – marketing people, products, and services – all these are common scenes in day-to-day life. From your baby's diapers to the country's latest space shuttle, from your hair color to artificially colored roses, everything is promoted and marketed. Marketing is a way of life and permeates every aspect of life. Marketing has become a science of its own.
Marketing has become such a great influence, no longer is anything or anyone accepted without it. To understand the secrets of why marketing is such a great influence; you will first need to understand its benefits.
Establish brand recognition:
The primary and most important benefit of marketing is brand recognition. Marketing strategies help to imprint a brand in the minds of customers. This ensures that customers seek a particular brand of a product, rather than the brand seeking out its customers.
Gain and retain customers:
Once a brand has gained its ground and established its customers, marketing enables it to retain its customers. This is essential so that the brand does not lose ground to products that newly come into the market.
Identify real customers:
Marketing strategies allow a business to identify potential and actual customers. Instead of trying to force a product or service on unwilling customers, marketing helps to target customers who have the real need.
Provide information:
Marketing a product is the best way to provide information about it. The salient features of a product or service is what is used to market the product. It is this same information that will attract customers towards the product. Knowing a brand better ensures that customers will come to trust it better.
Save time:
Marketing, and more so, effective marketing will help reduce the break-even period of a business. By promoting a product or service through effective marketing, a business can promote its sales and reach its intended clientele faster.
Establish trust:
Repeated and effective marketing ensures that a product remains in the minds of its intended customers. This in the longer run would help in establishing a brand trust, which would make customers choose the product irrespective of competition. Trust is created over a long period of time and marketing is an effective way in establishing it.
Encourages referrals:
Marketing encourages new customers to seek information about the brand. By making a product seen and heard frequently, a business also increases the chances of word-of-mouth referrals. The chances of suggesting an often-seen product is higher when compared to something that you do not see frequently or are unaware of.
Address issues:
The various means of marketing a product can also act as a means of clearing inhibitions or misunderstandings about the quality or nature of a product or service. Often, marketing can become an effective tool in clarifying misapprehensions relating to a brand.
Effective marketing allows a business to reach its potential customers by fulfilling their needs at the right time. But, however effective or efficient a marketing strategy is, the success of a business will depend on the quality of the product or service it offers. Therefore, only a quality product marketed in the appropriate manner through an effective channel to reach its potential customers at the right time can achieve success.