Benefits Of Prenatal Yoga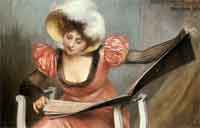 Benefits of Prenatal Yoga
These days' women everywhere are seeking effective ways to maintain health of the baby during pregnancy. Unfortunately, expectant mothers are somewhat limited when it comes to exercises. This is the reason why many women prefer yoga, which provide numerous health benefits, from improved cardiovascular health to flexibility.
1. Improves blood circulation
Stretching exercises help to facilitate circulation of oxygen and blood throughout the body. This not only helps to relax the mind but also promote a general sense of well-being. Moreover, you have the opportunity to meet with other moms, sharing your experience with them will improve your mental health.
2. Alleviates back pain
A pregnant woman tends to shift the pelvis forwards due to increased weight. As a result, this places stress on the back muscles. Prenatal yoga help to strengthen your core muscles, which results in reduced back pain and better posture.
3. Provides energy
Practicing prenatal yoga throughout pregnancy will improve your overall energy, building body mass. In addition, it becomes easier to shed few pounds after pregnancy. However, make sure you find competent instructors to help you reap the full benefits of prenatal yoga.
4. Relaxes your mind
The main benefit of prenatal yoga is that it helps you learn breathing techniques. Concentrating on these techniques will teach you how to relax your body your mind, even in high-stress circumstances, helping you progress healthily throughout the pregnancy.
5. Advices and support
Prenatal yoga gives you the chance to meet other expectant women, who can give you the much needed advice and support. Enrolling in yoga classes give you motivation to remain relaxed in any stressful situation.
6. Strengthens leg muscles
Prenatal yoga helps to strengthen your leg muscles, improving your standing posture. However, make sure you perform the exercises using the right form to avoid back strain and injuries.
Although prenatal yoga is beneficial to your overall health, be cautious of exercises that necessitate bouncing like movements. Also, consult the doctor if you feel nausea when performing these exercises.
Benefits Of Prenatal Yoga
Do you think the article can be improved? Share Your Expertise